Weird California - By Joe Parzanese
Easter Island Heads

1298 South Coast Highway 101, Encinitas, California 92024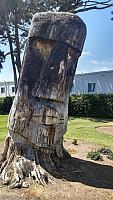 Swami's Park and Beach in Encinitas is one of the beaches mentioned in the Beach Boys' song, Surfin' USA. It is also the home to two Easter Island Heads or Moai, carved out of wood. Moai were originally giant monolithic human figures carved out of stone on Easter Island.
The Easter Island Heads in Encinitas are carved with a chainsaw by local artist, Tim Richards. The first, officially called Swami's Easter Island Head, has been there since April 2011. It is carved from the eleven foot tall stump of a dead Torrey Pine. The tree had been more than eighty years old, before suffering from a bark beetle infestation. Considered a threat to public safety, the tree was removed in January 2011, although it was decided to leave the stump and allow it to be turned into public art.
Tim Richards was chosen and in March 2011 he carved the Easter Island Head. The trunk of the tree leans, which has prompted many people to state that the head has had one too many to drink, thus leading to it's unofficial name "Mai Tai Moai". In 2018, Tim Richards added Easter Island Head II.
The sculptures are technically considered temporary, since although the city will make attempts to preserve the heads, due to the nature of the sculpture and the environment it is in, the life span of the art is unknown.
The park also contains Swami's Surfing Memorial, showing a tiled wave and a surfboard. It was designed and built by George Bredehof and established in the park a few years before Mai Tai Moai in September 2005.
Closest Weird
First Created: 2020-05-27
Last Edited: 2020-05-27