Weird California - By Joe Parzanese
Magowan's Infinite Mirror Maze

Pier 39 O-11, San Francisco, California 94111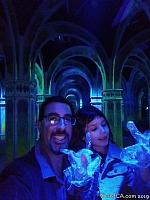 Out on Pier 39 in San Francisco, located at the top of the Piano Staircase is a mind boggling maze of mirrors! Magowan's Infinite Mirror Maze is a psychedelic mirror maze that's super easy to get lost in. The lights and colors change as you try and navigate the dimly lit paths, constantly running into multiple copies of yourself, as you get stuck at mirrored dead ends.
It's a fun and trippy black light lit maze of flashing passages, and it's totally worth a stop at the roadside attraction if you are already having a day at the pier. The attraction was created by Charles Magowan who apparently studied psychology at Yale. It takes up about 2,000 square feet consisting of seventy seven mirrors set in psychedelic black lit twisting paths.
The attraction is $10 and has been described by those living in San Franciso as one of the best ways to spend $10 in town. Kids five and under are free to explore the maze. The attraction gives you plastic gloves to wear while going through the maze in order to avoid fingerprints on all the surfaces. You are allowed to go around as many times as you want.
Closest Weird
First Created: 2021-11-01
Last Edited: 2021-11-01