Weird California - By Joe Parzanese
Yeti Statues

Moonlight Motors
274 North Coast Highway 101, Encinitas, California 92024


Montezuma Valley Market
37554 Montezuma Valley Road, Ranchita, California 92066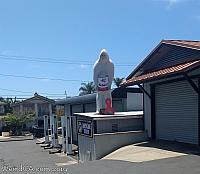 It's not only Bigfoot that gets to roam around California, we also have a few of his cold weathered cousins lurking about.
This is Cornelius, the oil selling Yeti of Encinitas! Located at Moonlight Motors, he stands about seven feet tall, hanging out on a rooftop overlooking the driveway of the autoshop. He holds a Mobil Oil sign, and I'm told, he gets dressed up for some holidays. He can be seen through the gate to the shop from the sidewalk outside. Although he is on the right side of the driveway in these pictures, he has since moved to the left and is now up against and above the fence, which is a much better spot for viewing and photographing.
Here are some pictures from Stephanie Olsen, taken in late 2020, showing Cornelius closer to the fence. He is now holding the name of the business in his hands instead of the oil can.
A twin of Cornelius stands outside the Montezuma Valley Market in Ranchita. Known as the Ranchita Yeti, this one has been seen sporting a Santa hat at Christmas time. This one has his hands palm down instead of holding an oil sign. I have heard rumors that someone in Ranchita will make you your own Yeti statue.
First Created: 2020-09-19
Last Edited: 2020-09-19