Weird California - By Joe Parzanese
Bakersfield Californian Newspaper

1707 Eye Street, Bakersfield, California 93301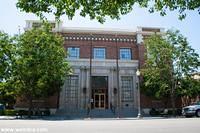 Several ghosts haunt The Bakersfield Californian, roaming its halls and lurking on its grounds.
The Bakersfield Californian has been around for a very long time, under its current name since 1907, but it can have its history traced back to the mining town of Havilah in 1866 as The Daily Courier. In 1872 it changed its name to The Kern County Weekly Courier and moved to Bakersfield. It underwent a few more name changes, The Kern County Californian and in 1891 The Daily Californian before in 1907 it became known under its current moniker, being renamed by its then current owner, the Kern County superintendent of schools, Alfred Harrell, who had purchased the paper in 1897. The paper is currently run by Virginia Moorhouse, who is the great granddaughter of Alfred Harrell, and the newspaper has been in the hands of the Harrell-Fritts family for well over a century. The building the paper resides in was built in 1926 specifically to house the newspaper. It is on the National Register of Historic Places.
One ghost is said to be Alfred Harrell, still roaming the halls of his newspaper. Another is said to be of a security guard hanging out in the cafeteria. Yet another haunting is that of a former editor at the paper who has been seen wandering the hallways.
Perhaps the most famous is the ghost of a dog, generally thought to be a German Shepard. Even though the dog and his master have both passed away, the dog still looks for his owner at the newspaper's building.
Alfred Harrell has a road named after him, and for additional weirdness, a giant Indian MufflerMan can be found on it. Note, the building is found near the corner of 17th and Eye Street. Streets in this area of Bakersfield are lettered, and Eye street is found in between H Street and J Street. For some reason, perhaps for clarity, it is named Eye Street instead of I Street.
We took our mascot, Ruby, a Black Lab mix, to investigate the outside of the building and give us her recreation of the scene of a ghost dog waiting outside the building for its master.
Closest Weird
Comments:
Stephanie Bell-Calo of San Luis Obispo, Ca on 2017-02-20 said:

This is true. I've seen the security guard ghost.
Outside Links:
Outside References:
First Created: 2013-05-22
Last Edited: 2013-05-22