Weird California - By Joe Parzanese
Curran Theatre

445 Geary Street, San Francisco, California 94102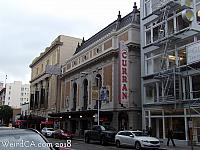 The historic Curran Theatre, opened back in 1922, is haunted by not one, but two ghosts. The first is that of 25 year old ticket taker and theater treasurer, Hewlett G. Tarr, who was shot and tragically killed during a robbery at 7:30 pm on November 28th, 1933, just two days before Thanksgiving. The murderer, who was a hatless young man, put his gun through the ticket window and fired. Tarr was getting married to his 23 year old fiance, Dorothy Reade only a few days later, the weekend after the holiday. She showed up just minutes after he passed away as the two were suppose to go out on a date. The show, "Show Boat", went on to perform that night, it's first appearance in San Francisco, despite Tarr's death. Tarr had worked at the theater for seven years, starting soon after he graduated Lowell High School. He had been saving in order to mary his fiance, and was also helping support his single mother.
The robber went on to hold up that very same night, Koffee Kub Restaurant down on Mason Street, stealing $100 from the restaurant. The murderer was called "The Hatless Slayer" by newspapers and he went on to rob several more locations over the next few weeks before finally being captured after a shootout with police on December 18th, 1933, a week before Christmas. The robber was 25 year old Eddie Anderson, and on that day he was in the process of making off with $1,950 from robbing Bank of America when two police inspectors blocked his escape. Anderson, while hiding in a taxi cab, shot at one of the inspectors, injuring his leg. The two inspectors unloaded into the cab, riddling it with bullet holes, causing Anderson to hide scared on the floor of the car. The robber and murderer was easily handcuffed while cowering.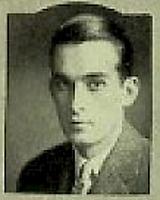 Eventually, Anderson confessed to murdering ticket taker, Tarr, stating that the gun went off accidentally and that he never intended to fire. Anderson also confessed to the robberies, stating that he needed the extra income to show his girlfriend a good time, performing the robberies to get "a lot of easy dough to show my girlfriend the bright lights. I was only getting $14 a week as an electrician and you can't show a girl all the hot spots on that coin."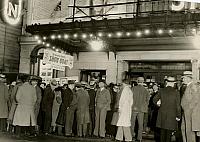 Having murdered someone, "The Hatless Slayer's" trial was super fast, finishing up only ten days after he was arrested. The jury deliberated for only seven hours, and Anderson was condemned to death. By 10:04 AM on February 15th, 1935, he swung from the San Quentin gallows.
Tarr, the ticket taker, however, apparently never moved on. His spirit has often been seen in mirrors throughout the lobby. Strange sounds also have been heard throughout the theater, leading many to suspect that the former employer is still lurking around the majestic theater.
Sadly, there is a second ghost hiding in the theater, that of a little girl who supposedly was killed across from the theater. Little is known about her or why she haunts the theater still.
Closest Weird
Outside References:
First Created: 2021-10-03
Last Edited: 2021-10-03