Weird California - By Joe Parzanese
The Cosmopolitan Hotel

2660 Calhoun Street, San Diego, California 92110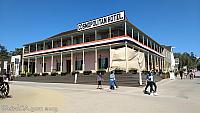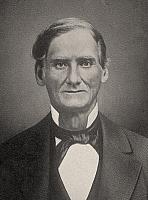 Located on the corner of the plaza in Old Town, San Diego, just a few blocks away from the Whaley House is the Cosmopolitan Hotel. This two story hotel with a full balcony around the top has been in Old Town since 1827 and is horribly haunted!
The building was originally a one story adobe built by Juan Lorenzo Bandini who had it built between 1827 and 1829. Called Casa de Bandini it took over 10,000 adobe bricks to construct, each brick weighing as much as sixty pounds.
Sadly for Juan Bandini, after the United States acquired California, his wealth began to dwindle until 1859 when he sold the casa in order to pay off some gambling debts. Sadly he passed away just a few short months later at the age of 59. Adolph Savin purchased it for just $600. During this time it served briefly as an olive packing factory under the name Old Mission Olive Company.
In 1869, stagecoach operator, Albert Seeley purchased the building. He completely converted the structure adding a grand second story, featuring a full wrap around balcony. Now known as the Cosmopolitan Hotel, it had a saloon, billiards room, barber shop, post office, and, of course, a stagecoach stop allowing weary travelers to get a room for the night. Seeley was running three stages a week from Los Angeles to San Diego, pulling his stages right up to his hotel. The Cosmopolitan Hotel has twenty hotel rooms, ten small ones available for fifty cents a night, and ten large ones for one dollar a night. It was the center of Old Town San Diego's social mecca, with events, parties, etc. all occurring there.
But this was not to last long. As New Town, now known as the Gaslamp Quarter, rose to prominence, Old Town's popularity fell. Seeley sold the building in 1888. It passed through a few owners, including Juan Bandini's grandson, Cave J Couts Jr. in July 1929, when it became the Mirarmar Hotel. Eventually it was purchased in 1968 by the State of California and became California State Historical Site number 72. The historical markers and plaques are in the courtyard of the building now.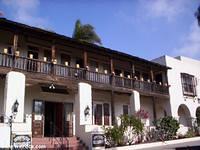 From 1980 until 2005, the building was operated as a restaurant by Diane Powers who was awarded the concessions contract from the state and opened a Mexican restaurant called Casa de Bandini. However, in 2005, the California State Parks turned the location over to a corporation called Delaware North to run, and the location is now managed by a corporation called Old Town Family Hospitality. The location was reverted and redone back to a hotel again and is now proudly once again called the Cosmopolitan Hotel.
And of course with almost two hundred years of history, the location is horribly haunted. Even during its time as a Mexican restaurant, rumors had ghosts residing within. The ghost of an unknown woman dressed in a long grey dress was seen by both security guards and gardeners. She was seen wandering the grounds, all misty and translucent. An invisible growling dog has been heard in the central courtyard. Lights have constantly malfunctioned, often going on and off by themselves and for no reason. Disembodied footsteps have been heard both on the second floor and marching up the stairs. Doors occasionally slam shut, and a strange light has been seen from outside that looks as if someone is walking around inside with a lit candle. Even a short, stocky, military style, elderly man has been seen hanging around the dining area.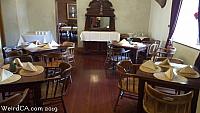 In more recent years, since becoming a hotel again, bottles move in the saloon, and chairs have moved in the dining area. The stories in present focus on three specific ghosts. Carlos is a ghost of someone from the cowboy days, who stands on the front porch strumming his guitar and singing. Then there is a Lady in Red who haunts the balcony outside rooms four and five.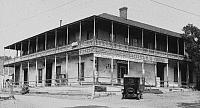 Finally, it is believed that Juan Bandini's youngest daughter, Ysidora, haunts room 11. She turns the lights on and off, and performs other ghostly acts such as opening the curtains, repositioning the mirror, dropping the bathroom robe to the floor and causing the rocking chair to rock back and forth.
All rooms now have journals in them so you can record your ghostly experiences for future guests. All the rooms but room 11 still have their original journal. The journal in room 11 needs to be replaced every few months.
One last item of interest in the hotel. If you go to the saloon, off to the right you will see an interesting display proudly advertising the exhibition of the Head of Joaquin Murrieta! It's certainly a cute setup with a fake head in a jar, and curtains over it. For those who don't know, Joaquin Murrieta was the notorious bandit who, if you believe the legend, was finally captured by Captain Harry Love who chopped off Murrieta's head to bring back as proof of his demise. The head went on tour throughout California, and the Cosmopolitan is playing homage to that little bit of interesting California history. The head, again according to legend, was supposedly lost in San Francisco during the earthquake of 1906, when the ghost of Joaquin came back to reclaim it!
Closest Weird
Outside References:
First Created: 2006-08-08
Last Edited: 2019-10-09