Weird California - By Joe Parzanese
Center of Silicon Valley

Metcalf Road, San Jose, California 95138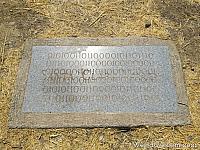 Along Coyote Creek Trail in San Jose, you can stumble upon a strange plaque to the right of the trail surrounded by grass. The plaque has all sorts of ones and zeroes separated out into six rows. If you look at it from a different angle, you can make out the words "Santa Clara Valley". What's this strange plaque and why is it there?
Well, the ones and zeroes are actually binary, yes the binary used in software, and spell out three words. The plaque represents the geographic center of Santa Clara Valley, otherwise known as Silicon Valley. If you take the six groupings of binary numbers and run them through a binary translator with the character encoding set to ASCII, you can discover what the zeroes and ones mean.
Some stories state that IBM Engineers who worked in the area in the 1980s placed the plaque. Others suggest a local artist put it there in the early 2000s. The origin of the plaque seems to be also part of the mystery.
The day I went, I turned onto Metcalf Road which the trail crosses and park on the side of the road. I'm not entirely sure this is allowed, but there didn't appear to be any signs, two other cars were parked there, and it's not like I was going to be there long. There is limited parking though on Metcalf Road there by the trail. An actual parking lot can be found down Monterey Road. This parking lot, the Coyote Creek Lakes parking lot is a short walk away from Metcalf Road, which you need to cross a pedestrian bridge to get to. The plaque is a bit south, down the trail, and located on the right.
Closest Weird
First Created: 2021-09-08
Last Edited: 2021-09-08