Weird California - By Joe Parzanese
Giant Rock Teddy Bear

9500 Gilman Drive, La Jolla, California 92093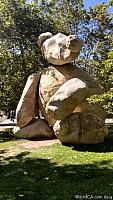 If you are wandering around University of California in San Diego or UCSD you'll run across a variety of interesting artwork. This includes a house sitting precariously on the edge of a building to a snake path. But if you wander into the Academic Courtyard, a courtyard near the Computer Science and Engineering Building, around the corner from the Bioengineering Hall, you'll find a giant rock teddy bear.
The art piece is known simply as "Bear" and was created in May 2005 by Tim Hawkinson. The Bear is made out of eight granite stones, one for the main body, one for the head, one each for the arms and legs, and two ears. The large boulders are bolted together in a fashion to make sure they don't collapse and maintain the bear shape. The bear clocks in at 180 tons and stands 23 and a half feet tall.
There are also purple shoe prints leading from the end of the snake path across campus to the giant teddy bear. The painted shoe path will take you past the teetering house, and then lead left into the courtyard.
Closest Weird
First Created: 2021-05-31
Last Edited: 2021-05-31