Weird California - By Joe Parzanese
Oakland Gnomes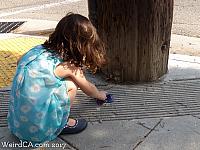 The second week in January 2012, gnomes began appearing in Oakland, at first, two dozen of them. They were painted on little wooden blocks, about six inches or so in height, and screwed into the base of utility poles throughout town. No one knew where they came from, but more and more kept showing up. And then the power company, Pacific Gas and Electric (PG&E), began threatening to remove all of them, claiming that they were compromising the utility equipment.
It turns out that a local artist was going out each night with his terrier, and installing multiple gnomes per night, usually ten or more! He wasn't seeking any publicity for himself and has remained anonymous to this day, even turning down a lifetime membership at the park, Children's Fairyland, in Oakland. When he heard about PG&E's plan to remove the gnomes he wrote them, "I'm a resident of Oakland who simply thought this would be a nice way to make my fellow Oaklanders happy and proud."
The city council stepped in and after meeting with PG&E, the utility company, in January 2013, about a year after the first gnomes appeared, allowed the gnomes to stay on their utility poles, declaring "the poles a gnome-man's land". At that time, there were over 2,300 gnomes throughout Oakland!
Most gnomes are screwed into the base of a utility pole, facing away from the street, although there are a few outliers. There are "communities" of gnomes, for example, hill gnomes typically have plaid kilts. Mushrooms and toadstools pop up here and there on wooden blocks screwed into the poles next to the gnomes. And a few gnomes actually have tattoos. There is a dalmatian hanging out with a gnome near Fire Station #19. A couple of gnomes are not at the utility pole's base, but are instead floating up the utility pole carried by balloons.
The gnomes in this article were found near Perkins, in the three hundred block. There is a map online (see the link below) of presumed gnome locations. Other concentrations seem to be along MacArthur Boulevard and Lakeshore Avenue, but gnomes have been sighted all over. You should go on a gnome hunt. Fittingly Children's Fairyland is nearby, and would make a good stop for younger gnome hunters.
Thanks to Oakland Street Gnomes we located another concentration of gnomes over by Glenview Elementary School in North Oakland. Multiple gnomes were found on the utility poles along Market Street and on 54th as well. These gnomes look newer than many of the others. Notable gnomes there include a skateboarding gnome, multiple gnomes with balloons, and even a gnome shepherd with multiple separate blocks containing sheep!
Outside Links:
First Created: 2017-09-22
Last Edited: 2018-08-26