Weird California - By Joe Parzanese
Singing Chickens and Egg Vending Machine

Glaum Egg Ranch
3100 Valencia Road, Aptos, California 95003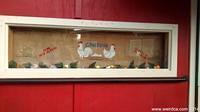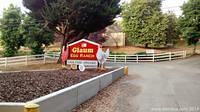 So you want some eggs? 22 eggs to be precise? How much are you willing to pay for them? Let's say they're organic eggs from some cage free chickens? Yes, these chickens can roam around all day doing whatever they want, eat nothing but vegetarian, organic diets and drink nothing but fresh water from a nearby well? Now how much will you pay? But wait there's more!
In addition to these 22 delicious eggs, we'll toss in a two minute singing and dancing show! What? a singing and dancing show? Not just any singing and dancing show, but a singing and dancing show by robotic animatronic chickens! In cute outfits no less! Now how much will you pay?
Just $4! Yep, that's it! Cruise on down to Glaum Egg Ranch in Aptos, California, and for only $4 you can try out their egg vending machine. After placing in four crisp dollar bills (the machine can be a bit picky), a curtain in a window to the left will rise up and several robotic chickens will sing and dance for your entertainment!
The outfits change often, so visit again and again!
The farm also has some cute signs up as you drive on through to get your eggs, along with the "wonderful" smell of chickens. Glaum Egg Ranch was the first egg ranch in California to be Certified Humane by Humane Farm Animal Care.
Closest Weird
Outside Links:
First Created: 2014-08-10
Last Edited: 2014-08-10