Weird California - By Joe Parzanese
Amboy Chinese Guardians

Route 66, Amboy, California 92304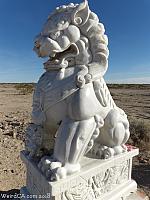 Even though Route 66 is no longer an officially designated highway, new things still keep appearing along the Mother Road. As you head East down Route 66, rocketing away from the ghost town of Amboy, at four miles down the road, if you look off to the south, off in the desert, stands the statue of a stone Chinese guardian lion. A quarter mile after this lion, stands its partner. Both stand more than a football field from the side of the road, just sitting silent sentinel in the middle of the Mojave Desert, and they've been there since at least September 2013. Where they came from, who put them there, how they got there, or why they are there, is all a mystery.
The statues are tall, and are perched on a stone base. These traditional Chinese statues are also known as foo dogs, fu lions, and occasionally as lion dogs. One is male and one is female. They are used to protect the building they stand in front of. I guess in this case, maybe they guard the desert or Route 66. In China, this lion pair have often been seen in front of palaces, temples, tombs, etc. They often flank the entrance to a building.
Always appearing as a pair, the lions represent Yin and Yang, with the male being Yang and the female, Yin. Fu lions are always placed with the male on the right and the female on the left, and it is no different here in the desert. The male has its left front paw resting on a ball, which is meant to symbolize that the space is under his protection, while the female has a lion cub under her right paw, symbolizing nurturing and protection of those who live in the space.
Standing roughly six or so feet tall, it is a wonder how the heavy statues and their bases ended up out in the middle of the desert. You can find the male one possibly near an old real estate sign, as stated four miles east on Route 66 of Amboy. The female can be seen from the male and is roughly a quarter mile further down the desert. Both lions have log books which visitors often sign.
No one has come forward to claim that they placed them out in the middle of the desert.
Closest Weird
First Created: 2020-05-24
Last Edited: 2020-05-24