Weird California - By Joe Parzanese
Bell Plastics

2020 National Ave, Hayward, California 94541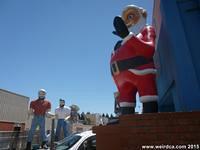 In Hayward, Bell Plastics, located on National Avenue, is quite literally the Land of the Giants! Bell Plastics is a company specializing in custom plastic fabrication that has been around since 1979. But more than that, the owner Bruce Kennedy has a passion for giant fiberglass statues.
Big Mike, Bunyan Style Muffler Man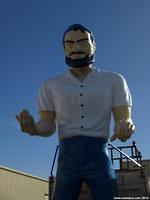 His first acquisition was a Hayward native and was a Paul Bunyan style Muffler Man known as Big Mike. Big Mike had been in Hayward for decades. Starting in 1966, he was originally located on Mission Boulevard outside first Morris Car Wash, and later Tyre Treds, Big Mike during this phase of his life, carried a scrub brush. He eventually sadly suffered from vandalism, but was luckily rescued by Bruce Kennedy and Bell Plastics. Bruce purchased Big Mike in 2011. He was taken down for restorations from his location on Mission Boulevard on October 27th, 2011, and finally returned in new condition in March 2013 to the parking lot of Bell Plastics.
Big Mike is generally all done up blue and white, but in October he dons a full on Halloween costume. His demon costume comes with a full length coat, a hatchet, and even his head is swapped out for a horned demon skull!
Big Mike also has a large ax that was anonymously left for him on site, but it was sadly not quite the right size for the Muffler Man's hands. The base of real wood ax handle has the letters "BM" carved into it. The giant ax is on display inside the office foyer.
Cowboy Don, Cowboy Style Muffler Man
By the summer of 2013 Big Mike acquired a friend, a fellow Muffler Man, this one a Cowboy version. The Cowboy originally stood in Boonesville, Missouri, before he ended up in storage as a result of failed plans to have him stand outside a children's museum. Bruce Kennedy acquired him, had him transported across the country, fixed up, and repainted. He is now called Cowboy Don after Bruce's father.
Paul Bunyan and Santa Claus
But Bruce wasn't finished yet! In November 2013, he acquired another Paul Bunyan Muffler Man! This one was hidden away in storage down in Paramount, California having been originally purchased from International Fiberglass in 1962. Bruce also acquired a 12 foot tall Santa Claus to go along with his Muffler Men from the same seller. Santa Claus was also made by International Fiberglass and purchased originally in 1961. The Paul Bunyan Muffler Man additionally came with a wood saw, wood hammer, and a fiberglass ax. Bruce has had the Santa Claus restored, but sadly the Paul Bunyan Muffler Man hasn't yet under gone restoration. His eyes are also whited out as well.
As Bruce Kennedy is afraid that both axes might go missing after hours, they are generally kept in the office, only coming out for special occasions.
Hollywood, the Happy Half Wit
If you thought three Muffler Men were enough, guess again. In early 2014, Bruce arranged to have a Happy Half Wit type of Muffler Man transported to Hayward. It is the only Happy Half Wit in California. Known for their straw hats and goofy Mad Magazine look alike grinning head, the Happy Half Wit Muffler Men are certainly on the rarer side of existing giants.
Originally the Happy Half Wit started his career in Kansas City before in the late nineties relocating outside of Dort Mall in Flint, Michigan. There, he achieved a brief bit of fame by appearing in the 2008 movie "Semi Pro". Due to the Happy Half Wit's brief cameo appearance in the movie, Bruce refers to him as "Hollywood".
Sadly when I visited his head was out for restoration.
Gas Guy
On December 8th, 2014, a sixteen foot tall fiberglass service station attendant was acquired by Bruce Kennedy and was erected alongside the four Muffler Men. The service station attendant is referred to as Gas Guy. He wears all white and use to actually stand outside of a gas station. He was not built by International Fiberglass like the four Muffler Men were.
Doggie Diner Heads
In the first quarter of 2015, Bruce acquired an actual Doggie Diner head, from a chain of restaurants that had been in the Bay Area from the 1940s through the 1980s. The Doggie Diner head had been residing in storage south of Sacramento. Bruce also acquired the rotating mechanism that formerly allowed the head to rotate 360 degrees.
If one Doggie Diner head isn't enough for you, Bruce acquired yet another one in late May 2015. This one was apparently sitting in a field up near Clear Lake and when the owner passed away the family discovered it and sold it to Bruce.
There are several other Doggie Diner heads scattered throughout California, including one that is a city landmark in San Francisco.
Uniroyal Girl
Mount Vernon, Illinois use to have a Uniroyal Girl, the female equivalent of the Muffler Men, on display in front of Stan the Tire Man. After sixty four years of operation, Stan the Tire Man closed on June 1st, 2015. Their Uniroyal Girl had been acquired in 1970 by the owner Stan Koziara. Bruce Kennedy purchased her on June 15th and had her taken down on June 19th. By the end of the summer, she was on display in Hayward to the left of the Gas Guy. She is actually the second Uniroyal Girl in California with the other located in Pearsonville. Luckily, Illinois still has a Uniroyal Girl in Peoria. Stan also apparently had a Paul Bunyan Muffler Man as well. With the purchase of a Uniroyal Girl, Bruce is mostly just missing one of the International Fiberglass Indians.
Other Assorted Fiberglass Statues
As if two Paul Bunyan Muffler Men, one Cowboy Muffler Man, one Happy Half Wit Muffler Man, one Uniroyal Girl, one Santa Claus, and one Gas Guy weren't enough, Bruce has a few others lying around Bell Plastics.
For example in the main office an eight foot tall Indian warrior welcomes visitors. Apparently this was an Ebay purchase from someone in San Diego.
There's also two separate dinosaurs, one a sauropod, the other some sort of carnivore, as well as a mostly unpainted Bob's Big Boy.
Bobble-heads
Bell Plastics also makes Bobble-heads of Big Mike and Cowboy Don. Bruce informed me that he intended to add four additional bobble-heads to the line, probably adding bobble-heads of some of his other giants. Collect them all!
Bruce and his employees love visitors and will happily show you their Giants if you stop by and visit.
Comments:
tom swarner of spanaway, wa on 2017-02-23 said:

I am looking to buy a Paul Bunyan character. If you know where one is available, please email me. Thank you.
Outside Links:
Last Edited: 2015-09-09