Weird California - By Joe Parzanese
Giant Olives of California

Giant Green Olive
Rhode Island Avenue and Hall Road, Corning, California 96021


Giant Black Olive
390 North Highway. 65, Lindsay, California 93247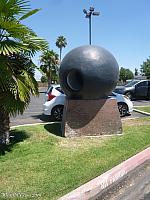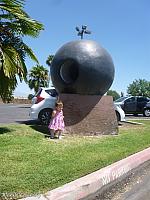 California has two giant olives located within it, one black and one green. The black olive is located in, fittingly enough, the town of Lindsay (yes the olive maker). It was originally outside the Lindsay Company's plant in town, but when the plant unfortunately closed, it was moved outside what was, at the time, fittingly, the Olive Tree Inn. (I've also heard a conflicting story that it was originally outside an Olive Growers Co-Op, located in their entrance way.) The Olive Tree Inn, however, is now a Super 8 Motel. It is not too far from the junctions of Highways 137 and 65. It is located in the motel parking lot, sitting proudly on a pedestal. It is made of concrete, and is a pretty massive olive with people claiming it is the World's Largest Olive.
The green olive is located in the small town of Corning. And although the Lindsay Olive claims "World's Largest", the Corning green olive looks bigger in the pictures I saw (I sadly haven't been able to visit yet). It is roughly 15 feet tall and built of adobe. The olive has a giant red toothpick skewering it made of stainless steel. Fittingly, this giant green olive is located in the corner of a Sevillano olive orchard. Sevillano olives are a Sicilian style green olive. The owners of the orchard, the DeCamilla Brothers commissioned the sculpture. Whereas Lindsay is also the name of a popular olive brand, Corning is known as the Olive City, having a very active economy based on olives.
Comments:
Tonya of CA on 2022-06-19 said:

Just down the road from there is a place called Orange Works. It is off the highway and surrounded by orange groves. They make and sell the best orange ice cream.
Outside References:
First Created: 2015-11-01
Last Edited: 2015-11-01