Weird California - By Joe Parzanese
Giant Hot Dogs

Giant Hot Dog
3434 Overland Avenue, Los Angeles, California 90034


Village Liquor and Market
2713 West Olive Avenue, Burbank, California 91505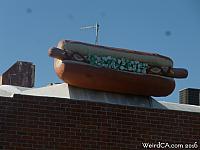 On Overland Avenue, to the left of a convenience store 7-11, hanging off the neighboring building is a giant hot dog! Complete with ketchup, mustard, and what looks a little like relish, or perhaps onion, the hot dog use to reside over near Hollywood Boulevard and Western Avenue, formerly above a Thai restaurant called Thai Town Express.
Thai Town Express inherited the giant fiberglass hot dog from Red's Hot Dog when they moved into the location in 2007. As the story goes, the lease forbid the removal of the hot dog from the building. Apparently being a Thai restaurant with a giant hot dog on your roof doesn't scream eat here, as the Thai Town Express moved out in 2008 and the building sat vacant after. Thai Town Express even tried sharing the rent as they temporarily had an auto insurance place sharing the space with them for a short while.
Well on November 16th, 2011, after the Thai restaurant had long been closed, the hot dog was removed from its building and relocated over to Overland Avenue, as its former home was scheduled to be destroyed.
Now, although it overlooks a place that actually sells hot dogs, it technically sits on the edge of a building that houses the National Promotions and Advertising Inc or NPA. They handle posting advertisements on construction sites, empty lots, and other buildings. Called Wildposting, the practice is very popular and common in Los Angeles and other large cities.
Burbank has it's own giant hot dog down on West Olive Avenue. This one is only six feet long, and has seen better days in regards to its paint job. Located above Village Liquor and Market, the paint on the hot dog itself has sadly faded, giving the hot dog a very moldy white look to it. Older pictures of it have shown it looking boldly painted, complete with fresh looking yellow mustard.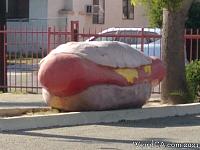 North Hollywood use to have a fifteen foot long hot dog, complete with french fries. The hot dog stood over Vicious Dogs from 2008 until 2016. The unofficial McDonald's Museum in San Bernardino has a hot dog lurking amongst many of the other fiberglass sculptures found on site. Although it closed in 2005, the Tail O' the Pup is probably the most famous giant hot dog that California has seen. This seventeen foot long hot dog stand stood in Hollywood for decades. It is supposedly now located in the North Hollywood storage lot for the Valley Relics Museum.. Lastly there are also two giant hamburgers in California, one hanging out on South Soto in Los Angeles and one on the Central Coast in Atascadero.
So if you want to see a giant hot dog, head on over to Overland Avenue and maybe, if you wish, get a hot dog at the 7-11 next door.
First Created: 2016-05-12
Last Edited: 2018-01-13