Weird California - By Joe Parzanese
Giant Shasta Soda Can

26901 Industrial Boulevard, Hayward, California 94545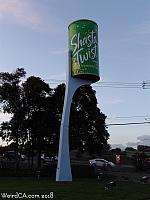 Do you have a gigantic thirst for a carbonated beverage? Then Hayward's got your fix! Outside the Shasta Beverages Plant is a giant, spinning, Shasta soda can! Currently it is a Shasta Lemon Lime Twist, but, at least, in 2007 and 2008, it was a Shasta Orange. And as far back as 2005, it was Black Cherry flavored. It's easy to spot off the nearby road, and it spins round and round so you can see the entire label.
There's a second giant Shasta soda can down in La Mirada in the Los Angeles area! Located outside Shasta's building on 14405 Artesia Boulevard, this can is currently grapefruit flavored. In 2007 it was Tiki Punch flavored, and at some other time, pineapple orange. It also spins like the Hayward soda can.
The Shasta cans are not the only giant beverage products in the state. Coca Cola has several giant bottles down in Los Angeles plus a giant coke cup in Sacramento!
Last Edited: 2018-01-27