Weird California - By Joe Parzanese
Giant Books

9918 Flower Street, Bellflower, California 90706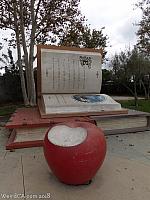 Across the street from the Clifton M. Brakensiek Library in Bellflower sits what is called the Library Garden. The garden has a set of giant books and even a fairly sizable apple!
The Library Garden had its grand opening on March 9th, 2006. It features a stack of books, one open wide so you can read it, a fancy clock, a giant apple, and also a host of famous quotes etched into concrete.
The book entitled "Enchanted Garden" has two pages revealed. The first page states, "Every garden has a secret place where magical things happen. Sprites dance there, the bells on their hats ring. If you're quiet and listen, you may be able to hear them. Let your imagination soar.", while the other page explains that "Your adventure in the Enchanted Garden begins ..."
One of the books under The Enchanted Garden is Gullivers Travels. Library Garden also has a pool of water topped by a statue of some books with a reading lamp closer to the street. Quotes found in the park are from Socrates, E. E. Cummings, William Shakespeare, President John F. Kennedy, Ben Franklin, and several others.
The Cerritos Millennium Library also has some giant books inside their library. Here is a look at some of the quotations that can be found in the park.
Closest Weird
First Created: 2020-08-12
Last Edited: 2020-08-12