Weird California - By Joe Parzanese
Giant Ice Cream Sundae

36017 Calico Road, Yermo, California 92398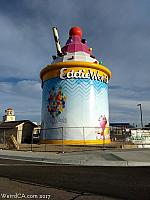 As you head down Interstate 15, driving towards Las Vegas, after you pass the dinosaurs of Peggy Sue's, one exit later, at the Calico off ramp, you'll see a giant ice cream sundae hanging out, off to the right in the desert. Yes, that's correct, a giant ice cream sundae, just sitting there in the emptiness of the desert.
The exit only has one thing near the off ramp, a business currently being built called Eddie World. It looks like a housing development is further down the road past where Eddie World is being built. Due to open sometime in early 2018, Eddie World is going to be a 26,000 square foot store with lots of food options from pizza to sandwiches, homemade ice cream, twenty-six gas pumps, eighteen charging stations for electric vehicles, and the largest selection of candy in California!
But apparently, they're trying to make their claim to fame to be super clean bathrooms! They even advertise an "immaculate clean restroom experience". There's already a billboard advertising their toilets, viewable from Interstate 15, heading from Las Vegas up on the left side of the highway, before the Calico off ramp.
This isn't the first business the company has owned. In Beatty, Nevada, off Highway 95, not too far from the ghost town of Rhyolite, is their first Eddie World, known better as Death Valley Nut and Candy Company. This Eddie World is smaller, clocking in at only 15,000 square feet, but showcases medieval towers and brick bridges. It also can claim the largest candy store in Nevada.
The giant Ice Cream Sundae is built on top of a water tank erected in the front corner of the Eddie World parking lot. The water tank was transformed into a giant sundae during the September and October months of 2017. The giant cherry on top will light up, when Eddie World opens. We will have new pictures sometime after they officially open with photos of the inside of Eddie World, plus non obstructed views of the giant sundae.
Outside Links:
Last Edited: 2017-12-09