Weird California - By Joe Parzanese
A&W Burger Family

Angelo's Burgers
2035 S Coast Highway, Oceanside, California 92054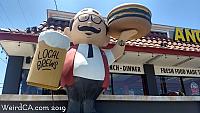 Roy Allen sold his first root beer for a nickel in Lodi, California in June 1919. In 1922 he took Frank Wright as a partner, thus forming A&W Root Beer. Their first A&W restaurant was in 1923 in Sacramento. Forty years later, in 1963, the A&W restaurants introduced the A&W Burger Family consisting of four large fiberglass statues made by International Fiberglass, yes the same company that made Muffler Men. The family's original lineup consisted of Papa Burger, who held a burger and a three foot tall beer; Mama Burger; Teen Burger, who has a T on his chest; and Baby Burger. Canada also had a Grandpa Burger. Each member of the family also corresponded to a meu option for a hamburger. The statues were made in 1963 and 1964. About 200 sets were supposedly made, although Papa Burger could also be purchased alone. A full set of the family of four cost $1800, while Papa alone was $600. Papa Burger is 8 1/2 feet tall, and his delicious mug of frothy root beer clocks in at a full three feet. Baby Burger is four feet tall.
There are a few of the statues still left in California, although not many, and no where near the 200 sets originally made. Modesto for example has an actual A&W Restaurant that originally opened in 1957. The restaurant still has both a Papa and a Baby Burger out on their patio area.
Oceanside, at a burger place called Angelo's Burgers, has a Papa Burger looking off their out door patio. He has been repainted with glasses and a mustache.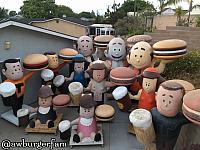 Another Papa Burger hangs out in Selma at Wilkin's Root Beer Drive In. He isn't with the rest of his family. This location was originally an A&W Drive In, but changed names back in 1975. Renga Arts in Sebastopol has had a Papa Burger since 2014, although Papa is missing his beer mug and burger. This location may have closed, however. Lemoore has a Teen Burger off California Highway 41. Chico may have a Papa Burger that was acquired from somewhere in Costa Mesa. I've also heard of a Baby Burger hanging out somewhere in Lodi.
Finding the whole family in California though is difficult. There is a private collection in Santa Maria, and in it are two full Burger families, as well as 3/4ths of a third, the third is only missing Baby Burger. I have not seen these statues personally and they are held in a private collection, thus not visitable by the public. But we have a picture of the collection, and more can be seen on their Instagram account: @awburgerfam. Special thanks to @awburgerfam for the use of their photo!
A complete set is on display in Hillsboro, Oregon, outside one of the town's recreation centers, and the statues have been designated a Cultural Resource of the town.
List of Burger Family Locations:
Madison Bear Gardens - 316 W 2nd Street, Chico, California - Papa Burger
Highway 41, Lemoore, California - Teen Burger
A&W Restaurant - 216 E Lodi Ave, Lodi, CA 95240 - full family
1404 G Street, Modesto, California - Papa and Baby Burgers
Angelo's Burgers - 2035 S Coast Highway, Oceanside, California - Papa Burger
Santa Maria, California - at least one full family in a private collection
Sebastopol, California - Papa Burger
1953 2nd Street, Selma, California - Papa Burger
Another mascot for A&W is Rooty, the Great Root Bear! He was first used in 1974, used chain wide by 1976, and in 2011, the franchise brought him back. His official birthday in June 19th!
Closest Weird
First Created: 2020-06-06
Last Edited: 2020-08-14