Weird California - By Joe Parzanese
The Mystery Spot

465 Mystery Spot Road, Santa Cruz, California 95060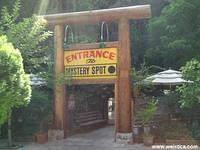 This entry is unfinished, incomplete, or planned for future research. Weird California makes no promise that it will ever be finished and gives no time table for a completion date. Additionally the information below may be inaccurate, incomplete, or just plain gibberish of notes. If you have any information on this entry, please feel free to Contact Us or leave a comment below. Thank you.
The Mystery Spot is an area about 150 feet in diameter located in the redwood forests just outside of Santa Cruz, California. Within the Mystery Spot you will be baffled as the laws of physics and gravity cease to exist.
Entry is a work in progress.
Closest Weird
Outside Links:
Outside References:
First Created: 2006-06-10
Last Edited: 2006-06-10